When you are seeking assistance with shutters and blinds in the Paradise Valley, AZ region, we are here to help. Any and all questions that you may have about the process are answered in a timely manner. Thanks to our years of experience, our customers are aligned with the shutters and blinds that work best for their needs. To learn more about the assistance that we have to offer, please be sure to read on!
Shutters & Blinds
By taking the time to speak with our team of professionals, you can learn everything that you need to know about our wide range of blinds and shutters. The right blinds and shutters will uplift the look and feel of a home inside and out. There is no way to understate this effect. Wondering which blinds and shutters are best suited to your residence? We are always on hand, ready to answer any questions that a Paradise Valley, AZ homeowner may have!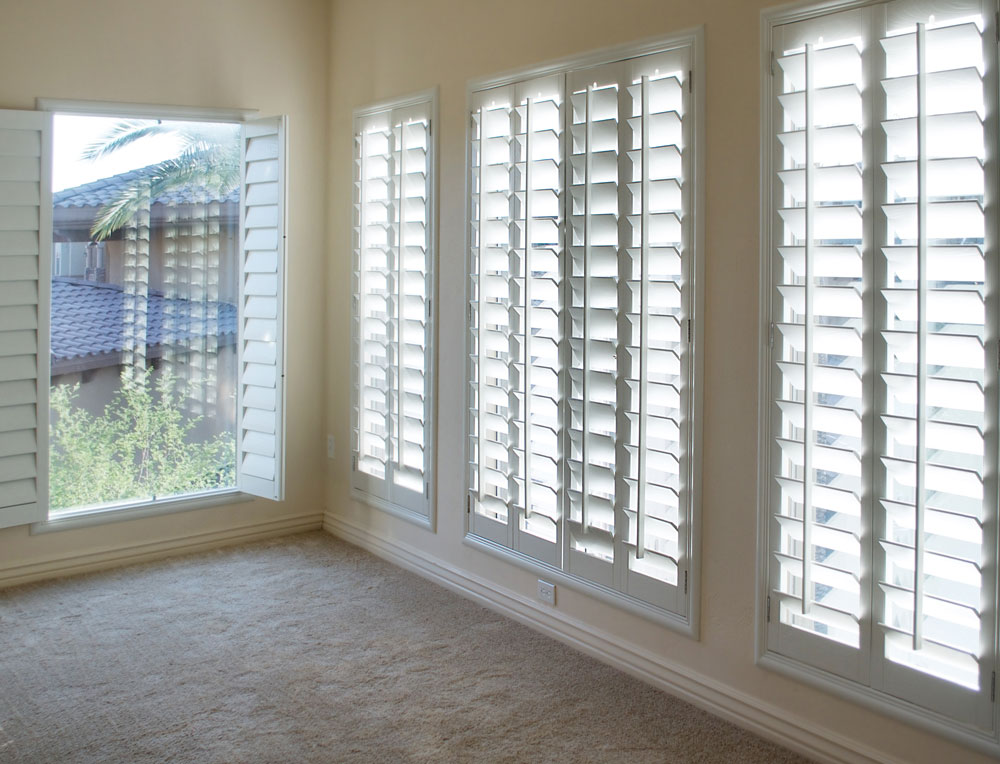 Shutters
Our wooden shutters are sure to appeal to those who can appreciate top-quality craftsmanship.
Customers have the peace of mind that comes with knowing that our shutters offer a timeless appeal that does not chase any recent trends. Our specialists know how to turn your dreams into reality. If you require a style that is custom-made, the process is handled as quickly and efficiently as possible.

Homes and businesses benefit immensely from styles that are crafted to their exact specifications. Every window is not going to be the same. They tend to vary greatly from room to room. That's why it can be hard to find the right shutters for all shapes and sizes.

With our help, this is an issue that is sure to fall by the wayside. Thanks to our beautiful paint finishes, it has never been easier to liven up any room in your home or business. Whether you need to dress up your arches, sliding doors or French doors, we have got you covered.

Our technicians also have the know-how to ensure that the project is completed as quickly as possible. They move quickly but they do not rush. All you need to do is present them with your vision and watch them bring it to fruition. We are highly experienced when it comes to selecting designs, shapes and sizes. The job is not done until we have made sure that it all fits together in the proper manner.
Installation and consultation services are provided to all clients. Our designs will meet every possible demand, as we continue to add new options on a consistent basis. We understand that our customers have a number of different design dreams, and we aim to fulfill each and every one of them.
In a number of instances, the customer will be misled by companies that promise to offer up "natural wood" or "real wood". Do not allow these terms to trip you up. We have top-quality wooden shutters that can be resized, painted and finished in any manner that you desire. It does not matter what design motif you are trying to continue.
Modern, traditional, and futuristic, the only limit is your imagination. As soon as you are ready for installation, our team of experts is more than happy to assist you. Each step is handled professionally so that you are fully pleased with the design, shape and style. Installation does not take place until the home or business owner agrees that it is a perfect addition to the space in question. The good folks at Arizona Specialty will always ensure that the finished product matches the customer's vision.
Blinds
Blinds are not a costly purchase, but they play a key role in a room's look and feel. Easy installation, cleaning and maintenance are just a few of the many benefits that they have to offer. We are more than happy to offer our customers access to a wide range of materials. Faux wood, vertical blinds, wood blinds and aluminum blinds are all available at Arizona Specialty.

If you have any questions about which blinds are best for your home or business, our team of experts is on hand to help. Wooden blinds tend to be our most popular option, as home and business owners treasure the warmth and natural beauty that they have to offer. Colors, types and stains are plentiful, offering the proper amount of variety.

They should not be chosen for rooms with high humidity levels, though. The wood will warp and crack in these instances. Faux wood provides a viable alternative in these instances. These blinds are less expensive and much easier to clean and maintain. Those who would rather choose metal blinds will enjoy their increased durability and ease of cleaning.

Different gauges are offered, providing home and business owners with the choices that they need. Since they are not going to be affected by humidity and moisture, they are a natural choice for any bathroom. Those who reside in windier areas may decide against the metal blind because of the noise that is created when the breeze causes them to bang against each other.

Vertical and horizontal blinds are available as well, with vertical blinds serving as the best choice for those who seek a thicker blind that will allow for more sunlight blockage. Vertical blinds are a great selection for anyone looking to preserve heat losses and gains. Tall windows and sliding doors are more easily covered with vertical blinds and it is easy to replace singular panels.
Need Shutters & Blinds in Paradise Valley, AZ?
If you are in need of shutters and blinds in Paradise Valley, AZ, you have come to the right place. Give us a call today at 602-767-1112 when you are ready to enjoy a free in-home (or business) estimate. We will add new life to your windows and our primary objective is a simple one. With our help, all of your dreams are able to come true. Contact our trusted team of experts as soon as possible.