When you are looking to enhance the aesthetic appeal of your home or business, the good folks at Arizona Specialty know how to cater to your needs. Our trusted dealers will provide the perfect window coverings and we can cater to any motif that comes our way.

By choosing Arizona Specialty, you are tapping into our two decades plus of experience. All of our clients' needs are met and our team of professionals can answer any and all questions that you may have. By taking the time to read on and learn more, you are able to zero in on the shutter and blind options that work best for your home or business.
Shutters & Blinds in Scottsdale, AZ
Finding the best shutters and blinds for your home or business in Scottsdale, AZ is made simple with the help of our experienced team. We will handle every step of the process for you, from the selection to the installation. If you have any questions about the fit for your home or business, these are all addressed as quickly and efficiently as possible.

When it comes to improving the functionality of your windows, without making any sacrifices from an aesthetic standpoint, we are your go-to company. Satisfaction is guaranteed and you are sure to love the results that we have to offer.
Shutters
The benefits that our shutters can offer for your home or business space are numerous. Whether you are looking to control the sunlight, enhance your privacy or improve the room's aesthetic, our shutters stand alone. Our shutters are also a great choice for insulation purposes. Each client's individual needs and concerns are considered thoroughly.

In many instances, home and business owners will choose wooden shutters. Their timeless tradition allows them to maintain their aesthetic appeal, even as other trends come and go. Arizona Specialty is well aware of the importance of wooden shutters in home and business designs. That's why we pride ourselves on aligning clients with the shutter styles that they need most.

All of your dreams are made into reality when you entrust the process to us. Every solution that we have to offer is derived from decades of experience, so you have the peace of mind that comes with knowing that you have come to the right place. Our wide range of styles is easily tailored to each of your needs.
Since all windows are not created equally and there are several dimensions to consider, you need a forward-thinking company at your disposal. Our objective is a simple one: we want to provide our clients with shutters of consistent quality, regardless of the windows' shapes and sizes. French doors, sliding doors, arches, it does not matter.

We are able to handle any window that comes our way, thanks to our decades of experience. The highly skilled craftsmen that we employ have the know-how to bring any dream to life. Shapes, sizes and designs are varied, ensuring a client's ability to make the selection that is best for their needs.

The "measure twice, cut once" principle is one that we are more than happy to live by. Our consultation and installation services are also top-of-the-line and second to none. Every step of the process is handled here. There is no design dream that is too big, and you should never have to constrain your design concepts for any reason.

Traditional themes are great but what about those who seek modern or futuristic themes? Speak to our specialists and allow them to guide you through the process. The installation process is made easy when our technicians guide you through the shutter's style, design and shape. High-quality installation is a must and our team prides itself on a high-quality finished product.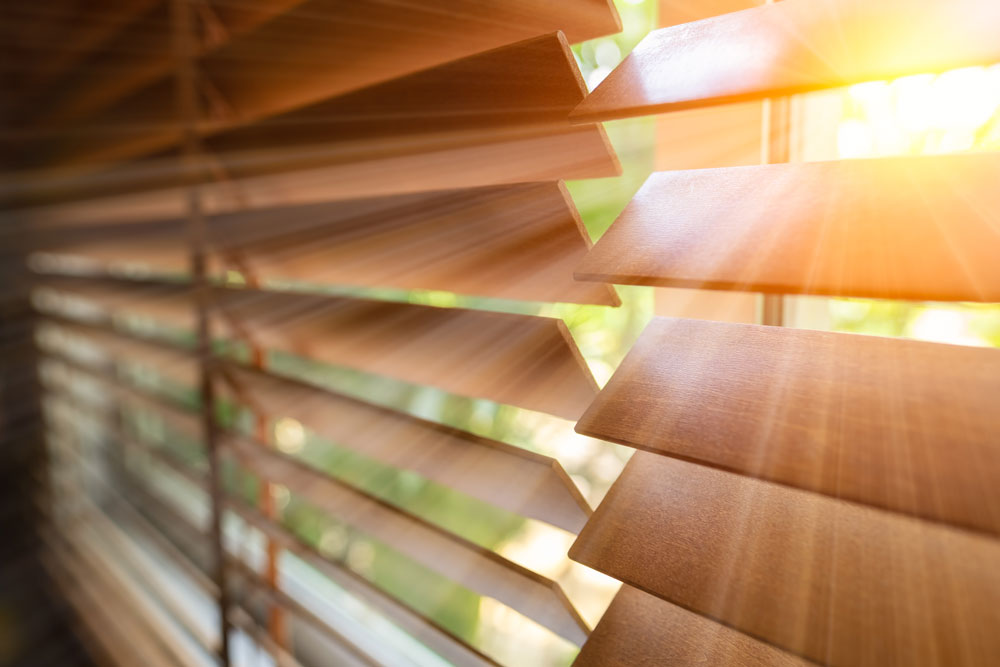 Blinds
Our blinds are constructed with high-quality, heavy-duty materials. Regardless of the functions and features that you are looking for, you will find them here. Any living space or business space is improved greatly with the right blind choice. Not only are our blinds affordable but they are also easy to clean, maintain and install.

Vertical blinds, aluminum blinds, wooden blinds, faux wood blinds, the options are endless. Every type is available, and we know how to align you with the style that works best for the space in question. Wood blinds are often chosen because of their natural beauty and the warmth that they have to offer. The variety that is on display is a sight to behold as well, as there is no shortage of colors, types and stains.
Meanwhile, there are some home and business owners that may need to choose a different style of blinds because they are looking to enhance a room or space with high levels of humidity. That's where faux wood and metal blinds come in handy. They are less expensive, easier to maintain and clean plus they are not as susceptible to the cracking and breakage that wooden blinds experience.

Metal blinds' durability is one of their primary selling points, making them the perfect choice for most bathrooms. They can be noisy on a windy day and this is also something to consider when it comes to vertical blinds. Vertical blinds tend to be a better choice than horizontal blinds, though.

They provide home and business owners with all of the help that they need as far as blocking out sunlight is concerned. Heat losses and gains are also prevented. Sliding doors and tall windows are more easily covered with vertical blinds and they will help a smaller window look larger. If a single panel is damaged, the replacement process is very simple.
Need Shutters & Blinds in Scottsdale, AZ?
When you rely on the good folks at Arizona Specialty, we are more than happy to remove as much of the legwork from the process as possible. There is no showroom to speak of. We will be bringing the showroom directly to you! Let us know more about your home or business location and the rest takes care of itself. For a free consultation, be sure to give us a call at 602-767-1112 as soon as possible.